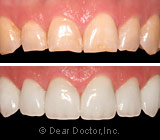 We are often asked about restorative and cosmetic dentistry procedures and the role they play in a smile makeover. We are also faced with people wondering whether or not they can benefit from treatment. For this reason, we developed the following self-assessment to help you determine whether or not cosmetic dentistry is right for you.
Do you avoid smiling in public or for photos?
Are you self-conscious about spaces and gaps between your teeth?
Do your teeth make you look older than you feel?
Have you ever held back or restrained a smile?
Do you feel that your teeth are stained or yellow?
Do you hold your hand in front of your mouth when talking, laughing or smiling?
Do your teeth look old and worn down, making you look and feel older?
Do your teeth appear short because of a "gummy" smile?
Are your teeth crooked, chipped or crowded?
Do you wish you had someone else's smile?
If you answered, "yes" to one or more of the above questions, then you could benefit from a smile makeover. However, that is the easiest part of the process. The next step is the one that probably matters the most — scheduling a consultation with us. During this appointment you can discuss the specifics that bother you about your smile using your responses from our self-assessment test. You can also learn about the many treatment options available for providing you with the smile of your dreams.
Ready To Take The Next Step?
Contact us today to discuss your smile makeover questions or to schedule a consultation. Or, learn more now when you continue reading the Dear Doctor article, "The Impact Of A Smile Makeover."