My Blog
Posts for: February, 2019
By John C. Koechley, DDS
February 16, 2019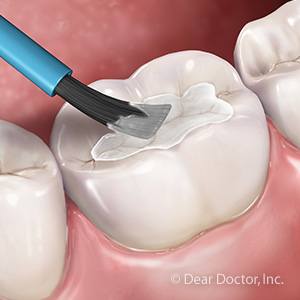 While children are less likely than adults to experience periodontal (gum) disease, the same can't be said for tooth decay. One aggressive form of decay called early childhood caries (ECC) can have a profound effect on a child's dental development and future health.
That's why dentists who treat young children often use a variety of preventive measures to reduce the risk of ECC and other dental diseases. One popular method is dental sealants, dental material coatings applied to the biting surfaces of teeth that fill in the naturally occurring pits and crevices. These areas are highly susceptible to plaque formation, a bacterial biofilm of food particles that tends to accumulate on teeth. It's the bacteria that live in plaque that are most responsible for the formation of tooth decay.
Roughly one third of children between the ages of 6 and 11 have received some form of dental sealant. It's a quick and painless procedure applied during a routine office visit. The dentist brushes the sealant in liquid form on the teeth, and then hardens it with a special curing light. It's common for children to begin obtaining sealant protection as their molars begin to come in.
With their increased popularity among dentists, researchers have conducted a number of studies to see whether dental sealants have a measurable effect reducing tooth decay. After reviewing the cases of thousands of children over several years, many of these studies seemed to show that children who didn't receive sealants were more than twice as likely to get cavities as children who did.
As evidence continues to mount for dental sealants' effectiveness protecting young children from decay, both the American Dental Association and the American Academy of Pediatric Dentistry now recommend it for all children. Not only can sealants help preserve children's teeth now, but they can reduce future costs for dental treatment that results from tooth decay.
If you would like more information on children's dental sealants and other decay prevention measures, please contact us or schedule an appointment for a consultation.
By John C. Koechley, DDS
February 06, 2019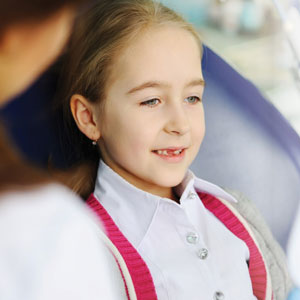 While orthodontists can effectively correct most poor bites (malocclusions), some can be quite complex requiring much time and expense. But there's good news—we often don't have to wait on a malocclusion to fully develop if we catch it in time. Thanks to interceptive orthodontics, we may be able to intervene much earlier and eliminate or reduce the degree of difficulty with treatment.
Interceptive orthodontics is a group of techniques and devices used in early childhood to help deter a possible malocclusion. Here are 3 ways this approach could make a difference in your child's bite development.
Guiding jaw growth. On a normal-sized upper jaw, the permanent teeth usually have ample room to erupt. Not so with a smaller jaw: incoming teeth become crowded and may erupt out of alignment or too close to each other. Orthodontists often use a device called a palatal expander to aid an under-sized jaw in its development. The device fits along the roof of the mouth between the teeth and applies gradual outward pressure on them. This encourages the jaw to widen as it grows, thus providing more room for erupting teeth to come in properly and decrease the chances of obstructive sleep apnea in the future.
Reshaping and repositioning jaw bones. An overbite can occur when the jaws aren't properly aligned, often due to poor muscle and bone development. This is where devices like the Herbst appliance are useful. Its hinge mechanism encourages the lower jaw to grow further forward. The jaws can thus develop in a more normal way, minimizing the development of a malocclusion.
Maintaining space. Primary ("baby") teeth are important for dental development because they help guide future permanent teeth to erupt properly; they also keep nearby teeth from drifting into the intended space. But when a primary tooth is lost prematurely due to disease or trauma, the space can become vulnerable to this kind of "drift." With a simple mechanism called a space maintainer we can hold open the space created by a prematurely lost primary tooth until the permanent tooth is ready to erupt.
These and other techniques can help stop bad bites from developing in young children, minimizing or even eliminating the need for future orthodontic treatment. That means a healthier mouth for your child and less impact on your wallet.
If you would like more information on interceptive orthodontics, please contact us or schedule an appointment for a consultation. You can also learn more about this topic by reading the Dear Doctor magazine article "Interceptive Orthodontics: Timely Intervention can make Treatment Easier."