My Blog
Posts for tag: crown
By John C. Koechley, DDS
January 28, 2015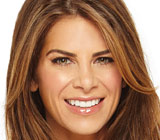 As America's toughest trainer on the hit television program The Biggest Loser, Jillian Michaels helped people learn that they hold the power to change. And if anyone knows about the power of changing oneself, it is Jillian Michaels. In her recent interview with Dear Doctor magazine, Jillian discusses her childhood, the trauma of being overweight as a teenager (5' 2" and 175 pounds), and the day her life forever changed when she started martial arts training at a gym. "I started training when I was 17 and always loved it but never thought it would end up being my career," she said.
Jillian also reveals that when she was a child, she broke her two front teeth and had them repaired with crowns. She added, "Now, I generally wear a mouthguard if I am doing anything where my teeth have any chance of being knocked out."
When it comes to replacing teeth that are broken or damaged from trauma, or teeth that are damaged because of dental decay, grinding habits, or acid erosion, crowns may be your best option. And because the tooth enamel is damaged, a bit more of it must be removed before we can place a crown. Generally speaking, we must remove about 2 millimeters of tooth structure to place a crown. Once the crown is placed, the tooth will always require a crown, as this is an irreversible procedure. However, the good news is that a crown not only mimics the look and feel of a natural tooth, but it is also the optimal long-term solution. On average, a crown last between 5 and 15 years and requires no special maintenance. In fact, you should treat your crown as you do your natural teeth, with a daily cleaning regimen of brushing and flossing and routine dental examinations and cleanings.
To learn more about crowns or other cosmetic procedures, contact us today to schedule an appointment so that we can conduct a thorough examination, discuss any questions you have as well as what treatment options will be best for you. Or to learn more about crowns now, you can continue reading the Dear Doctor magazine article "Porcelain Crowns & Veneers." And to read the entire interview with Jillian Michaels, please see the article "Jillian Michaels."
By John C. Koechley, DDS
March 18, 2014
A crown is a common type of dental restoration that has been available, in different forms, for a long while. When properly done, it may last for decades — and if desired, it can be made to match the shade of the natural teeth so well that it's nearly impossible to tell them apart. Some recent technological innovations may offer patients who need this treatment even more choices. To begin learning about dental crowns, let's start with five facts everyone should know.
Crowns are a type of restoration that can solve many dental problems.
There are many factors that may cause the structure of a tooth to become compromised. It can be weakened by grinding or chipping, gradually removed by repeated dental fillings, or suddenly broken by trauma. Sometimes, a more conservative treatment (like inlays or veneers) may be enough to take care of the problem. When it isn't, the missing tooth structure can be replaced by a crown.
Crowns replicate the form and function of natural teeth.
Because they must fit into your mouth perfectly and match your bite exactly, each crown is an individually-crafted item, made just for you. That means the form of a crown must look just like the tooth it replaces — before it was damaged. And, especially if it's for a front tooth, a crown is often carefully designed to match the particular shade of your teeth. If you are unhappy about the color of your other front teeth, tooth whitening should be done first before your new crown is created to get the best results possible.
Crowns can be made of different materials.
For over a hundred years, crowns have been made of gold. While this extremely long-lasting material remains popular, its use has been declining recently due to aesthetic factors. Two tooth-colored alternatives are all-porcelain and porcelain-fused-to-metal crowns. The exact shade and luster of these substances can be made to closely simulate the natural teeth. Each has advantages and disadvantages in particular situations but we will be happy to make recommendations as to what is in your best interests.
New technologies are changing the way crowns are prepared.
Advances in the field of materials science have led to crowns being fabricated from more durable high-tech substances, like ceramics made of zirconium dioxide. And the availability of small-scale computer-aided design and manufacturing technologies means that in some situations, it's possible for a crown to be fabricated right in the dental office, in minutes. Undoubtedly, these technologies will continue to improve in the future.
Delivering a quality crown is a blend of science and art.
No matter how high-tech the process becomes, producing a fully functional, long lasting and natural-looking crown remains a blend of aesthetics and science, seasoned with a healthy dose of clinical experience. It's also a team effort involving a skillful dentist, a talented dental laboratory technician and a knowledgeable patient — you.
If you would like more information about crowns, please contact us or schedule an appointment for a consultation. You can also learn more about this topic by reading the Dear Doctor magazine articles "Porcelain Crowns & Veneers," "Gold or Porcelain Crowns," and "Creating In-Office Dental Restorations With Computers."
By John C. Koechley, DDS
February 05, 2014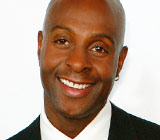 As a Pro Football Hall of Famer and first runner up on the hit television show Dancing with the Stars, Jerry Rice has a face and smile that truly has star quality. However, that was not always the case. During an interview with Dear Doctor magazine, the retired NFL pro discussed his good fortune to have had just a few minor dental injuries throughout his football career. He went on to say that his cosmetic dentist repaired several of his chipped teeth with full crowns. Rice now maintains his beautiful smile with routine cleanings and occasional tooth bleaching.
If you have chipped, broken or missing teeth, or are considering a smile makeover, we want to know exactly what you want to change about your smile, as the old adage is true: Beauty is in the eyes of the beholder. This is one reason why we feel that listening is one of the most important skills we can use during your private, smile-makeover consultation. We want to use this time to ensure we see what you see as attractive and vice versa so that together we can design a realistic, achievable blueprint for your dream smile.
For this reason, we have put together some questions you should ask yourself prior to your appointment:
What do you like and dislike about the color, size, shape and spacing of your teeth?
Do you like how much of your teeth show when you smile and when your lips are relaxed?
Are you happy with the amount of gum tissue that shows when you smile?
Do you prefer a "Hollywood smile" with perfectly aligned, bright white teeth, or do you prefer a more natural looking smile with slight color, shape and shade variations?
To learn more about obtaining the smile you want, continue reading the Dear Doctor magazine article "Great Expectations — Perceptions In Smile Design." Or you can contact us today to schedule an appointment so that we can conduct a thorough examination and discuss your cosmetic and restorative dentistry treatment goals. And if you want to read the entire feature article on Jerry Rice, continue reading "Jerry Rice — An Unbelievable Rise To NFL Stardom."