My Blog
Posts for tag: dental implant
By John C. Koechley, DDS
March 17, 2021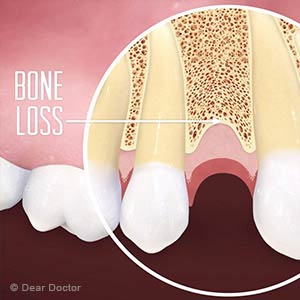 Introduced to the United States in the 1980s, dental implants have quickly become the go-to restoration for tooth replacement. And for good reason: they're not only incredibly life-like, they're highly durable with a 95% success rate.
But as desirable as they are, you may face a major obstacle getting one because of the condition of the bone at your implant site. To position the implant for best appearance and long-term durability, we must have at least 4-5 mm of bone available along the horizontal dimension. Unfortunately, that's not always the case with tooth loss.
This is because bone, like other living tissue, has a growth cycle: Older cells die and dissolve (resorb) and newer cells develop in their place. The forces transmitted to the jaw from the action of chewing help stimulate this resorption and replacement cycle and keep it on track. When a tooth is lost, however, so is this stimulus.
This may result in a slowdown in cell replacement, causing the eventual loss of bone. And it doesn't take long for it to occur after tooth loss—you could lose a quarter of bone width in just the first year, leaving you without enough bone to support an implant. In some cases, it may be necessary to choose another kind of restoration other than implants.
But inadequate bone isn't an automatic disqualifier for implants. It's often possible to regenerate lost bone through a procedure known as bone augmentation, in which we insert a bone graft at the missing tooth site. The graft serves as a scaffold for new bone cells to grow upon, which over time may regenerate enough bone to support an implant.
Even if you've had a missing tooth for some time, implementing bone augmentation could reverse any loss you may have experienced. In fact, it's a common practice among dentists to place a bone graft immediately after a tooth extraction to minimize bone loss, especially if there will be a time lag between extraction and implant surgery.
Bone augmentation could add extra time to the implant process. But if successful, it will make it possible for you to enjoy this popular dental restoration.
If you would like more information on dental implant restoration, please contact us or schedule an appointment for a consultation. You can also learn more about this topic by reading the Dear Doctor magazine article "Dental Implants After Previous Tooth Loss."
By John C. Koechley, DDS
December 11, 2014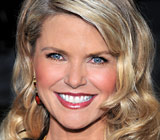 Supermodel Christie Brinkley has a one-in-a-million smile, but she is just one of millions who have benefited from today's preferred tooth-replacement technique: the dental implant. In a wide-ranging interview, Brinkley told Dear Doctor magazine about a helicopter accident she suffered while back-country skiing.
"I fractured two molars in the back of my mouth and I had to get two dental implants," Brinkley told the magazine. "I am grateful for the dental implant technology that feels and looks so natural."
You might think it serves little purpose to replace a missing back tooth that was barely visible in your smile to begin with — especially if you don't spend a lot of time posing for magazine covers. But this is actually not the case. Your molars are extremely important for chewing and even for maintaining a more youthful appearance.
Dentists generally agree that losing posterior (back) teeth can have many consequences for the remaining teeth and their surrounding structures, i.e., bone and gums. If back teeth are missing, the front teeth end up bearing more stress than they were built for. And there are certain things that happen when any tooth is lost, whether front or back, that can affect function and appearance.
For one thing, when a tooth is lost the adjacent teeth tend to drift into the empty space or tip towards it. This can adversely affect your bite. Too much shifting can render a tooth basically useless and also leave it more vulnerable to gum disease.
Another complication is the loss of tooth-supporting bone that inevitably occurs when teeth are lost. When a tooth comes out, the bone under it actually begins to melt away. Since back teeth support the vertical dimension of the face, their loss can cause what's known as "bite collapse" — a reduction in facial height that becomes increasingly noticeable over time and can make you look older.
A dental implant can prevent all of these things, while providing you with a replacement that looks and feels just like the tooth you lost.
If you are interested in learning more about implants, please contact us or schedule an appointment for a consultation. If you would like to read Dear Doctor's entire interview with Christie Brinkley, please see "The Secret Behind Christie Brinkley's Supermodel Smile." Dear Doctor magazine also has more on "Replacing Back Teeth."
By John C. Koechley, DDS
May 27, 2014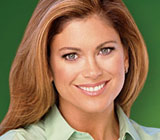 It is not often that you find a celebrity who is willing to speak candidly about any cosmetic or restorative dentistry that he or she has had. Instead, most prefer that their fans just assume that their dazzling "Hollywood" smile is something that just happened naturally. However, that is not the case with Kathy Ireland, the former Sports Illustrated cover girl, current business mogul and founder of kathy ireland Worldwide, a billion dollar marketing and design firm. In a Dear Doctor magazine cover story she talks openly about her dental experiences, injuries and treatment so that people worldwide can understand what may be possible for them.
For Kathy, it happened several years ago when she was playing with her husband and children in their driveway. Kathy decided that she would stand in her children's wagon and surf across their driveway. Instead, she ended up "face-planting," as she describes it, in a freak accident that left her with a broken nose, split forehead and several broken teeth. She recalls that it sounded like a watermelon had smashed. Luckily, her husband, an emergency room physician, was on hand to care for her. Kathy is just as thankful to her cosmetic and restorative dentist who restored her trademark smile with some veneers and a dental implant. Today, the only reminder she has from this accident is a small scar on her nose that she covers with a little makeup.
You would think that this accident would be enough trauma for one person; however, Kathy describes an earlier accident where she knocked out a tooth and then later knocked it loose again. Kathy also wanted to take the time to let readers know that her dental implant experiences were "pretty easy." She did recall, "hearing all the sounds while all of it was going on" and then added, "but I have to tell you, that after being a mom and having kids, going to the dentist...is like going to the spa!" She said that she has even fallen asleep in the dental chair.
To learn more about Kathy Ireland, continue reading the Dear Doctor magazine article "Kathy Ireland." Or if you think cosmetic or restorative dentistry is right for you, contact us today to schedule an appointment to discuss your specific goals.