My Blog
Posts for tag: dental injuries
By John C. Koechley, DDS
October 28, 2020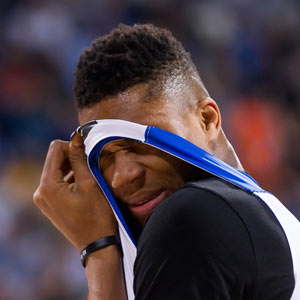 The NBA's reigning MVP Giannis Antetokounmpo may seem unstoppable, but he proved no match for a troubled tooth. Antetokounmpo, the self-proclaimed "Greek Freak," missed one of the final three 2020 regular season games for a dental issue that resulted in last-minute oral surgery. According to a Milwaukee Bucks spokesperson, the star underwent "a root-canal like procedure."
Root canal therapy, often simply called "a root canal," may be needed when there is an infection inside the tooth. When dental pulp becomes inflamed or infected, excruciating pain can result. Pulp is the soft tissue that fills the inside of the tooth. It is made up of nerves, blood vessels and connective tissue. During root canal treatment, the pulp is removed, the space inside the tooth is disinfected, it is filled with a special material, and then the hole is sealed up.
A root canal is nothing to fear. It relieves pain by getting rid of infection and is so effective that over 15 million of them are performed in the U.S. each year. This routine procedure generally requires only local anesthetic, and your mouth should be back to normal within a day or two after treatment. Antetokounmpo can attest to that, as he returned to play the next day.
However, delaying root canal treatment when you need it can have serious consequences. If left untreated, an infection inside the tooth continues to spread, and it may move into the gums and jaw and cause other problems in the body. So, how do you know if you may need a root canal? Here are some signs:
Lingering sensitivity to hot or cold temperatures. One sign of nerve damage inside your tooth is pain that is still there 30 seconds after eating or drinking something hot or cold.
Intense pain when biting down. You may feel pain deep within your tooth, or in your jaw, face or other teeth. The pain may be hard to pinpoint—and even if it improves at times, it usually comes back.
A chipped, cracked or discolored tooth. A chip or crack can allow bacteria to enter the tooth, and the tooth may darken if the tissue inside is damaged.
A pimple on the gum. A bump or pimple on the gum that doesn't go away or keeps coming back may signify that a nearby tooth is infected.
Tender, swollen gums. Swollen gums may indicate an infection inside the tooth or the need for periodontal treatment.
And sometimes there is no pain, but an infection may be discovered during a dental exam.
Tooth pain should never be ignored, so don't put off a dental visit when you have a toothache. In fact, if a bad toothache goes away, it could mean that the nerves inside the tooth have died, but the infection may still be raging. Also, be sure to keep up with your regular dental checkups. We may spot a small problem that can be addressed before it becomes a bigger problem that would require more extensive treatment.
Remember, for dental issues both large and small, we're on your team! If you would like more information about tooth pain, please contact us or schedule a consultation. To learn more, read the Dear Doctor magazine articles "Tooth Pain? Don't Wait!" and "Root Canal Treatment: What You Need to Know."
By John C. Koechley, DDS
March 03, 2014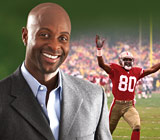 According to NFL football legend Jerry Rice, "Football can be brutal—injuries, including those to the face and mouth, are a common risk for any player." And if anyone should know, it would be Jerry.
During an interview with Dear Doctor magazine, the retired NFL pro discussed his good fortune to have had just a few minor dental injuries during his pro playing days. He credits this success to the trainers and protective equipment professional football teams have to keep the players off the injured list. However, this was not the case during his earlier years in football. "There wasn't a lot of focus on protecting your teeth in high school," he said. "You had to buy your own mouthguard." He continued, "Things changed, though, when I went to college."
Unfortunately, not much has changed since Jerry's high school days for young athletes. This is why we feel it is so important that parents and caregivers understand the risks and take proactive steps towards protecting the teeth, gums, bone and soft tissues of their children with a mouthguard. This is especially true for anyone — adults included — participating in high-contact sports such as basketball, baseball, hockey (field and ice), football, soccer, wrestling, martial arts, boxing and activities such as skateboarding, in-line skating and skydiving.
But all mouthguards are not the same. The best mouthguard, based upon evidence-based research, is one that is custom-designed and made by a dental professional, with the athlete's individual needs taken into account.
We make our custom mouthguards from precise and exact molds of your teeth, and we use resilient and tear-resistant materials. Once completed, it should be comfortable yet fit snugly so that you are able to talk and breathe easily with it in place. It should also be odorless, tasteless, not bulky and have excellent retention, fit and sufficient thickness in critical areas.
And while mouthguards may seem indestructible, they do require proper care. You should clean it before and after each use with a toothbrush and toothpaste, transport and store the mouthguard in a sturdy container that has vents, make sure not to leave it in the sun or in hot water and rinse it with cold, soapy water or mouthwash after each use. And last but not least, you should periodically check it for wear and tear so that you will know when replacement is needed.
To learn more about mouthguards, continue reading the Dear Doctor magazine article "Athletic Mouthguards." Or you can contact us today to schedule an appointment so that we can conduct a thorough examination and make molds of your teeth for your custom mouthguard. And if you want to read the entire feature article on Jerry Rice continue reading "Jerry Rice — An Unbelievable Rise To NFL Stardom."
By John C. Koechley, DDS
February 05, 2014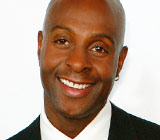 As a Pro Football Hall of Famer and first runner up on the hit television show Dancing with the Stars, Jerry Rice has a face and smile that truly has star quality. However, that was not always the case. During an interview with Dear Doctor magazine, the retired NFL pro discussed his good fortune to have had just a few minor dental injuries throughout his football career. He went on to say that his cosmetic dentist repaired several of his chipped teeth with full crowns. Rice now maintains his beautiful smile with routine cleanings and occasional tooth bleaching.
If you have chipped, broken or missing teeth, or are considering a smile makeover, we want to know exactly what you want to change about your smile, as the old adage is true: Beauty is in the eyes of the beholder. This is one reason why we feel that listening is one of the most important skills we can use during your private, smile-makeover consultation. We want to use this time to ensure we see what you see as attractive and vice versa so that together we can design a realistic, achievable blueprint for your dream smile.
For this reason, we have put together some questions you should ask yourself prior to your appointment:
What do you like and dislike about the color, size, shape and spacing of your teeth?
Do you like how much of your teeth show when you smile and when your lips are relaxed?
Are you happy with the amount of gum tissue that shows when you smile?
Do you prefer a "Hollywood smile" with perfectly aligned, bright white teeth, or do you prefer a more natural looking smile with slight color, shape and shade variations?
To learn more about obtaining the smile you want, continue reading the Dear Doctor magazine article "Great Expectations — Perceptions In Smile Design." Or you can contact us today to schedule an appointment so that we can conduct a thorough examination and discuss your cosmetic and restorative dentistry treatment goals. And if you want to read the entire feature article on Jerry Rice, continue reading "Jerry Rice — An Unbelievable Rise To NFL Stardom."