My Blog
Posts for tag: invisalign
By John C. Koechley, DDS
September 14, 2015
Find out how clear braces in Batavia can fix crooked smiles without anyone knowing.
Ever wish there was a way you could fix your crooked teeth and get a straighter smile without needing to wear metal braces? Well, now
you can with Invisalign! Your Batavia dentist Dr. John C. Koechley is making it easier than ever for both teen and adults to get the smile they deserve without needing to wear traditional braces. Imagine getting that straight gorgeous smile without anyone noticing. Invisalign can be used for treating many dental problems:
Overcrowding
Spaces between teeth
Crooked teeth
Crossbites
Open bites
Overbites and underbites
Invisalign can treat everything from minor problems to more serious malocclusions (bad bites). Your Batavia dentist Dr. Koechley will be able to determine whether Invisalign is the right option for your smile when you come into our office.
So, what makes Invisalign so special?
It's virtually invisible (so no one will be able to tell that you are wearing these aligners)
It's custom-made (so it offers a superior fit that is more comfortable)
Fits into your lifestyle
Easy to clean
Removable
You don't have to change your diet
You can maintain the same oral regime that you had before braces
These are only some of the wonderful benefits you can get when you decide to wear Invisalign. Invisalign is made up of a series of clear, plastic aligners that look similar to whitening trays and are custom-made to fit over the upper and lower teeth to slowly push teeth into their proper position. Each aligner is removable, so you can continue to eat all your favorite foods and you won't have to worry about brushing or flossing around your braces.
Invisalign can easily fit into most lifestyle seamlessly and since people won't be able to tell that you are wearing your clear aligners, this makes it a popular choice for teenagers and adults who don't want colleagues and fellow students to see that they are wearing braces. Avoid the embarrassment of wearing braces when you say yes to Invisalign.
If you're ready to find out if Invisalign is right for you then it's time to call your Batavia dentist Dr. Koechley to schedule a consultation. You'll be happy you did!
By John C. Koechley, DDS
December 27, 2013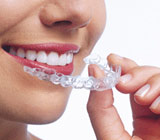 If you are considering having your teeth straightened, for cosmetic or other reasons, the idea of using clear aligners rather than traditional braces may be appealing.
Here are the answers to some frequently asked questions about clear aligners.
What are clear aligners?
Clear aligners are clear removable custom fitted "trays" that gradually straighten teeth. Used sequentially, each individual tray is slightly different from the one before and is worn every day for two weeks before going on to the next one in the series. This slowly moves your teeth to a new position.
How are they made?
The trays are computer-generated, based on impressions and models of your mouth combined with the knowledge of growth, development of teeth and jaws, and most importantly how and why teeth move.
How long does this treatment take?
By wearing clear aligners for at least 20 hours per day for two weeks before changing to the next tray in the sequence, treatment time can range from six months to two years depending on your individual situation.
Can children wear clear aligners?
Clear aligners are generally used for adults who have all their teeth and when jaw growth is complete, but can be used for younger people depending upon the extent and severity of their situation.
What situations can clear aligners be used for?
Clear aligners can realign or straighten teeth, close mild spaces, treat elongated teeth and tip teeth into better position. They are usually recommended for correcting mild to moderate crowding of teeth, particularly if your back teeth already fit together properly.
When are clear aligners probably not the right choice?
If you have a bad bite (your back teeth do not fit together well), or if you have a severe overbite or underbite, traditional braces are probably a better choice for treatment. If your teeth are severely crowded, or if your situation is complex, clear aligners will probably not be the right treatment choice.
How do you decide whether clear aligners are right for you?
An orthodontic assessment of your individual situation must be performed by our office.
What is considered in the assessment?
The assessment includes specialized x-rays of your teeth, jaws and skull, along with photos, impressions, and models of your bite.
For more information about clear aligners vs. traditional braces, make an appointment with us for a consultation and an examination of your own situation. You can learn more by reading the Dear Doctor magazine article "Clear Orthodontic Aligners: An Alternative for Adult Orthodontics."